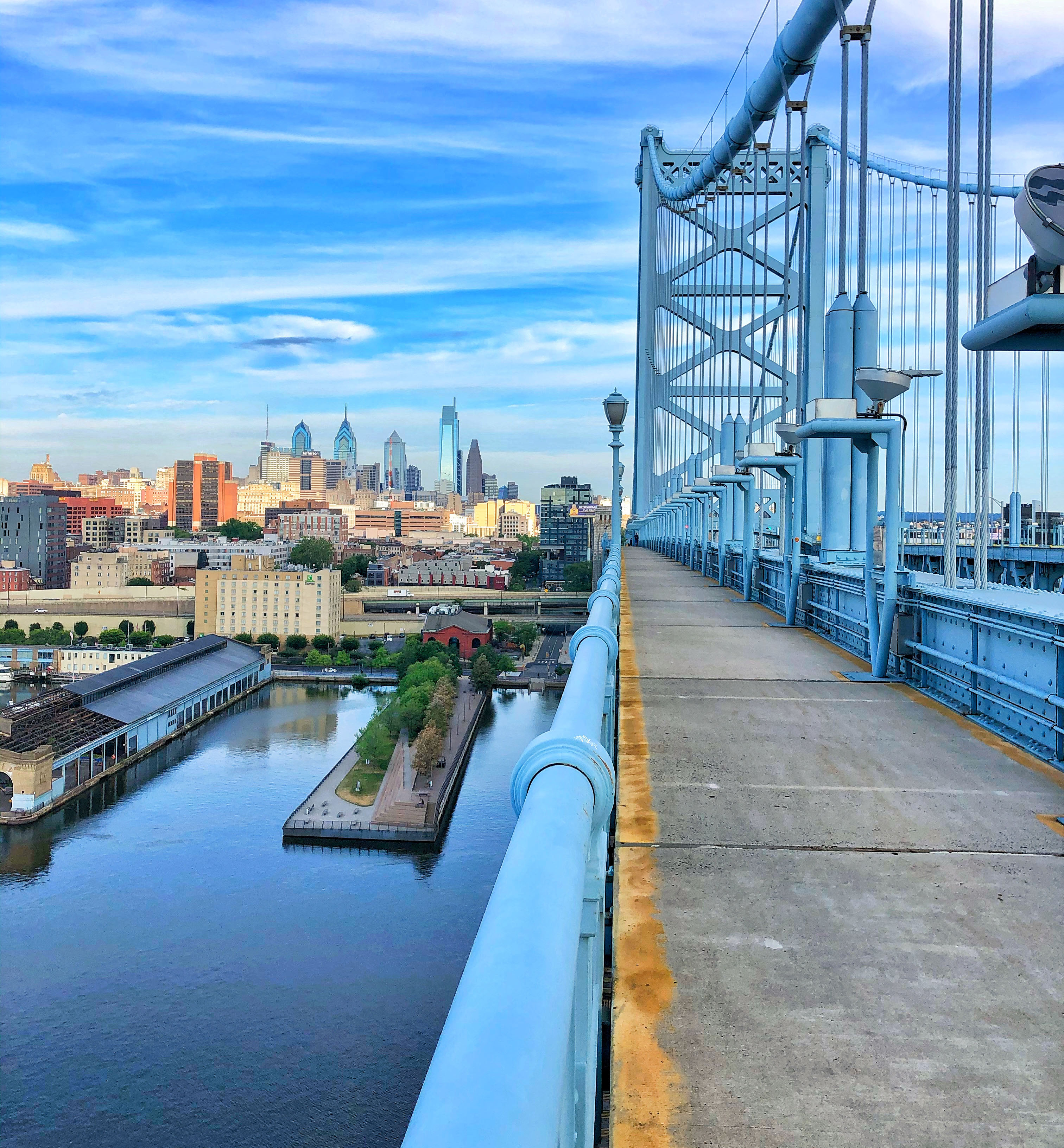 A note from our leadership
We are pleased to share the 2019 William Penn Foundation Annual Report, which provides a snapshot of the programs and initiatives we supported last year in our three program areas of Creative Communities, Great Learning, and Watershed Protection.
Our world has changed significantly since the work included in this report took place. We are living with the physical and emotional effects of a confounding virus that so far has taken nearly 200,000. At the same time, systemic racism persists in our country and we must heed the urgent call for racial justice. Work that strengthens our region in these areas is essential. To that end, we are supporting relief and recovery efforts and have renewed our commitment to advancing work that is racially, economically, and socially inclusive.
The projects highlighted here provide a look back at 2019, as they capture the spirit and commitment of so many in the nonprofit sector, who work every day to help improve the lives of others across this region. This work continues under the daunting circumstances we are experiencing this year.
As we publish this Annual Report, we do not know what a new normal will be. But we do know the resilience and connectedness of Philadelphia's nonprofit community and are heartened by the strength of so many networks and partnerships that serve the city and region.
There is much work and healing ahead. All of us must be active in bringing about the promise of meaningful recovery, reconciliation, and change. On behalf of the William Penn Foundation, we commit to supporting the kind of progress that moves the region forward now and for generations to come.
Sincerely,

JANET HAAS, M.D. 
Chair of the Board of Directors

SHAWN MCCANEY
Executive Director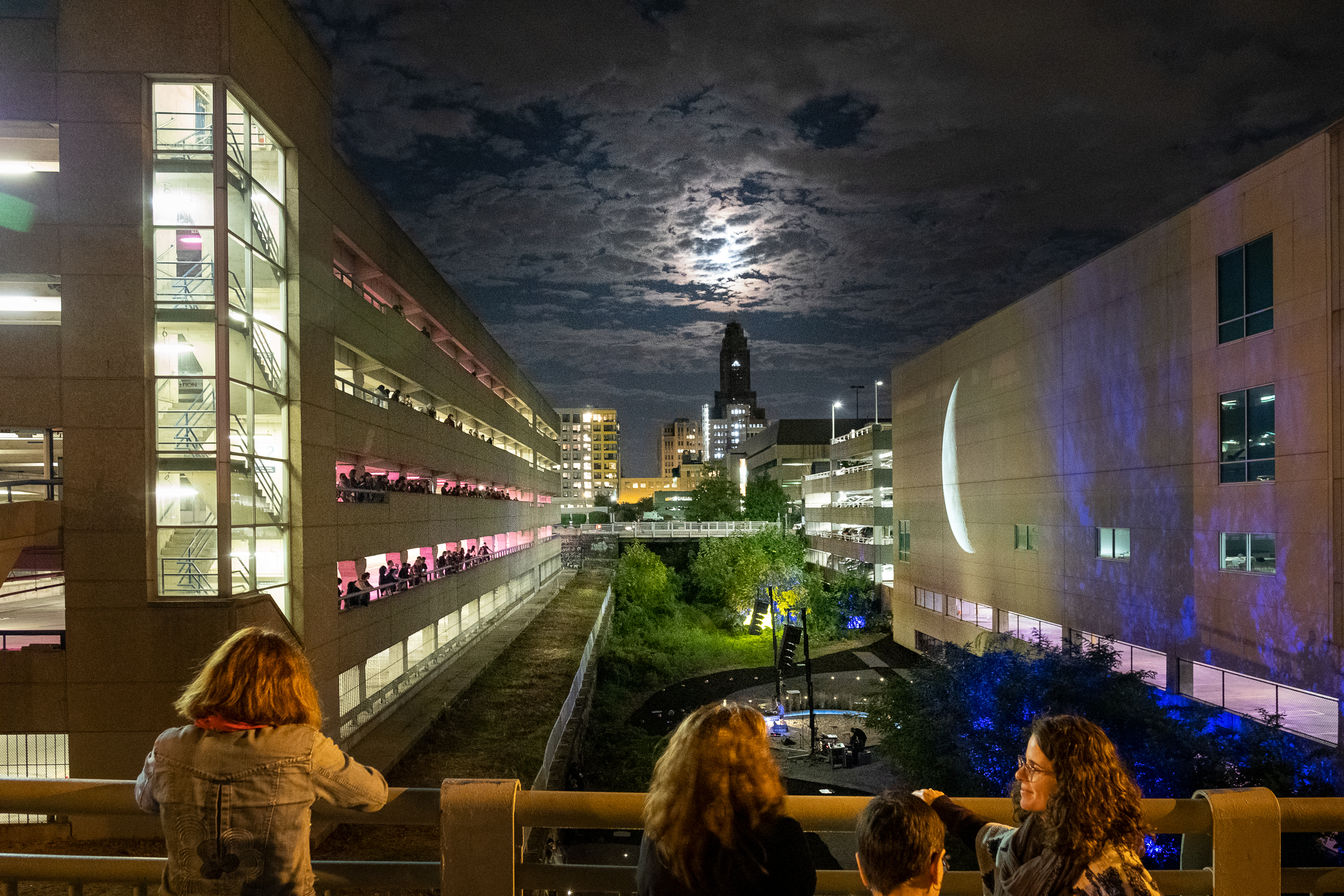 Developing Public Spaces for All
All Philadelphians, of any zip code, should have access to welcoming public spaces where they can connect with people and feel a sense of belonging and community. Such spaces must be thoughtfully designed, built, managed, and programmed to ensure they truly benefit the local community and are rooted in existing neighborhood culture. That's why we believe in taking a holistic approach to funding public space, focusing on far more than design and construction.
This approach requires constantly expanding our understanding of the ways that public spaces can benefit – or harm – communities. To inform our funding, as well as the broader field, we commissioned a team of researchers led by Hamil Pearsall at Temple University to synthesize existing public space research across many disciplines, from public health to sociology to environmental science, which was completed at the end of 2019. Among the key findings, the synthesis noted that investments in public spaces that are guided primarily by economic development are often associated with residential and commercial displacement, a product of several factors including community exclusion from the planning process.
The synthesis also found that the upkeep and physical quality of public spaces have important implications for the health of surrounding communities and their environment; in other words, poorly maintained spaces beget behavior that can be worrisome or harmful to neighborhoods as civil disorder influences perceptions of safety and increases fear among park users. Nationwide, the researchers found evidence pointing to the disproportionate negative impacts of poorly maintained public space on communities of color and on low-income neighborhoods.
The research synthesis findings have implications for our public space grantmaking. For example, in 2019 we awarded a grant to University City District (UCD) to support its social enterprise Green City Works in delivering more frequent basic maintenance at five neighborhood parks in West Philadelphia, in partnership with Philadelphia Parks & Recreation. Through project iteration and evaluation, we hope to better understand the connections between maintenance, community usage, and overall stewardship of the parks.
Case in point is a grant we awarded to Philadelphia Chinatown CDC in support of a Rail Park Equitable Development Lab. In recognition of the impact that the Rail Park has had, and may have in the future, on nearby Callowhill and Chinatown neighborhoods, the Rail Park Equitable Development Lab brought together Chinatown community members, city staff, and local non-profit partners to build engagement and generate policy solutions to help mitigate displacement and cultural erasure that may result from the new park.
Finally, in recognition of the challenges that can affect neighbors' ability to benefit from nearby public space improvements, we awarded a $1.5 million grant to support the Strawberry Mansion Historic Home Repair Program, led in partnership by the Strawberry Mansion CDC and the Philadelphia chapter of Local Initiatives Support Corporation (LISC). This pilot grant aims to be a replicable model supporting community capacity building, homeowner engagement, historic preservation, resource programming, and sustainable homeownership for owner occupied, lower-income households. The program will increase wealth building and neighborhood engagement through a new home repair initiative in Strawberry Mansion, a neighborhood with a rich cultural fabric and history adjacent to recent major public space investments. Strawberry Mansion CDC and LISC hope to leverage City of Philadelphia home repair resources to provide interior and historically sensitive repairs to at least 25 long-term, owner-occupied homes, with the goal of keeping people in the neighborhood.
The upkeep and physical quality of public spaces have important implications for the health of surrounding communities and their environment.
Strengthening the Practice of Teaching Artists
Young learners can gain a multitude of benefits from arts education. It fosters an expanded worldview and greater understanding of other cultures, as well as their own; nurtures interest in the arts and builds skills to make art; and strengthens socioemotional learning, which can help children successfully navigate any number of situations throughout school and life.
The opportunity to realize these benefits requires strong instruction from teaching artists. Research has shown us that students of arts instructors who participate in professional development demonstrate greater artistic growth, as well as heightened cognitive, emotional, and social capacities. Acknowledging this and the limited number of offerings for arts instructors to refine their practice, the Foundation organized opportunities for the capable teaching artists from WPF-funded arts education programs to further learn and develop their teaching methods. In May and September 2019, we invited a group of the Foundation's arts education grantees to participate in workshops presented in partnership with the Stockton Rush Bartol Foundation and organized by WolfBrown, which included hands-on sessions led by fellow teaching artists to strengthen teaching practices. These events were designed to provide insights from both experienced trainers and peers alike, and represent the Foundation's desire to create more space for teaching artists to improve their practice.
Art and Communities
Within each neighborhood across Philadelphia there exists a unique microculture that celebrates art and creative expression in its own authentic way. We seek opportunities to support the diversity of cultural expression already happening in neighborhoods across the city through the Foundation's New Audiences/New Places grantmaking strategy. New Audiences/New Places seeks to make more art available to more people across Philadelphia, including by supporting new organizations to partner in neighborhoods and to work with independent artists and local community arts organizations that are already part of the fabric of each neighborhood.
In South Philadelphia, we funded the Philadelphia Folklore Project's La Ofrenda, a project about the home altar tradition in the Mexican American community there implemented by artists Cesar Viveros and the late Ana Palma. The project consisted of a research phase and a temporary space with a public exhibition and free, all-ages programs. In the first phase of the project, Philadelphia Folklore Project staff conducted ethnographic research in South Philadelphia to both learn about and document various home altar traditions, and to network with local community organizers to inform the audience engagement plan for a more public phase of the project. An altar was created in a pop-up space in a vacant shop on South 9th Street and the space was programmed with events, food, performances, and hands-on public programming for several days in the fall.
We supported Philadelphia Mural Arts, the American Composers Forum, and Friends of the Rail Park to offer a brand-new art-focused event, Sight/Sound: Revealing the Rail Park. The event was designed to celebrate the Rail Park's past, present, and future through art in various media, to bring together people from across the city to celebrate and honor the space. Public events, live performances, and art installations were offered throughout the Rail Park for three weeks in October, activating the current quarter-mile of green space and inviting the public to envision the path of the future park that will inhabit the remainder of the rail corridor.
We also funded The Bearded Ladies Cabaret for its project Late Night Snacks, a month-long, temporary cabaret space taking place in a different neighborhood each fall for three years which launched its first space in South Philadelphia in September. The project uses cabaret to serve as a catalyst for community building, artistic experimentation, and cultural exchange within neighborhoods outside of Center City; the content and performances featured were offered in collaboration with partners invested in the neighborhood, including FringeArts, Opera Philadelphia, the Mayor's Office of LGBT Affairs, local neighborhood leaders, and the Passyunk Avenue Revitalization Corporation, to elevate the community's access to artistic expression.
Each of these examples represents our commitment to fund unique projects in Philadelphia's diverse neighborhoods and are exemplary of how multidisciplinary arts practices and multi-part partnerships can produce exceptional arts experiences across the city.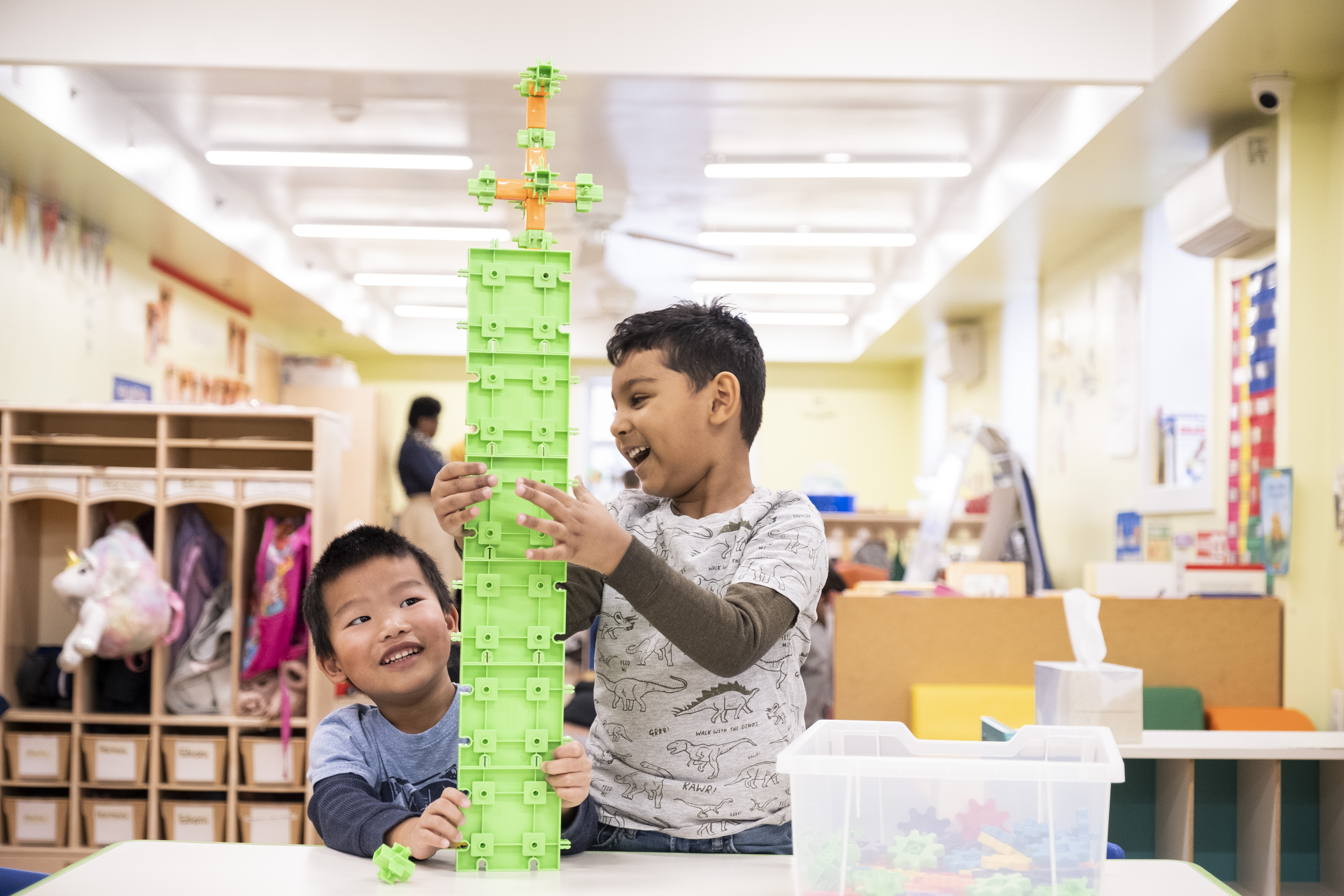 Improving Early Childhood Education for All
The quality of child care settings can significantly impact the academic and social-emotional development of children. Today, 33% of the total child care seats in Philadelphia are rated high-quality by the state's Keystone STARS rating system – up from 25% in 2014, according to an analysis by Reinvestment Fund. Since 2014, about 10,000 more children can be served each year in high-quality early childhood education (ECE) centers in Philadelphia, thanks to many partners' collaborative efforts and sustained commitment to improving quality in the child care sector.
While many quality improvement efforts have traditionally been designed to support ECE centers, many Philadelphia caregivers enroll their children in what's known as a family child care program – child care located in a provider's home rather than in a center. To learn more about the needs of home-based child care providers and how best to support them on the path to quality improvement, we asked Erikson Institute to investigate these questions in Philadelphia, working with local partners Public Health Management Corporation, Greater Philadelphia YMCA, and First Up. The project revealed that limited supports exist for family child care providers in many neighborhoods.
In 2019, we supported District 1199C Training & Upgrading Fund to begin outreach to more than 600 certified home-based child care providers and establish a Philadelphia Family Child Care Collaborative. The Collaborative connects home-based providers with professional development and peer learning opportunities. To reach and build relationships with providers, the Collaborative is developing hubs based in community facilities, such as libraries or recreation centers, in six areas of Philadelphia.
Home-based child care providers who get involved in the Family Child Care Collaborative will be more likely to learn about available programs, such as First Up's new initiative, the Early Childhood Quality Improvement Project (EQUIP), which launched in 2019 with WPF support. In the first two years of the program, First Up and its partners will support 40 ECE centers and family child care programs to achieve high-quality STAR ratings through coaching, training, and program evaluation, helping to further increase the number of Philadelphia children who receive high-quality ECE each year.
Art and science institutions are natural partners in citywide efforts to support early learning and literacy development.
Creating Learning Opportunities in Neighborhoods
As experts in interactive, hands-on approaches and educational experiences, museums and art and science institutions are natural partners in citywide efforts to support early learning and literacy development. Yet research has shown that many families do not access these resources, due to barriers such as travel distance, costs, inconvenient operating hours, or lack of familiarity with the institutions. Since 2017, the Informal Learning Initiative has sought to lower these barriers by supporting partnerships between cultural institutions and community organizations that have strong ties to families and the ability to serve as connectors. Leveraging each of their strengths, together the organizations developed new programming for young children and brought programs directly into neighborhood spaces. The partners organized trips to the museums in ways that were accessible and welcoming to the families they served.
The first two years of the Informal Learning Initiative helped broaden the reach of our city's great cultural resources beyond museum walls and created new ways for these institutions to engage young children.
In 2019, we launched Phase II with a network of more than 20 organizations – some brand new to the Initiative – with the goals of seeing these programs and partnerships grow, strengthen their connections with communities, and become established parts of Philadelphia's early learning landscape.
Supporting the Call for Early Childhood Funding
The Pre-K for PA campaign has demonstrated that an effective advocacy campaign can successfully build the public will necessary for increasing investments in young children. State spending for pre-K has increased by $145 million since 2015, including a $30 million increase in the state budget enacted in 2019. The state has more than doubled what it was spending on pre-K prior to the Pre-K for PA campaign, enabling an additional 21,800 children from low-income families to attend pre-K every year.
Meanwhile, there has been much less state support of other early care and education issues, such as infant/toddler care and home visiting. In response, we supported nine organizations to build on the foundation of Pre-K for PA and conduct two additional campaigns: Start Strong PA (to improve and increase infant/toddler care) and Childhood Begins at Home (to expand access to evidence-based home visiting services.)
Coordinated by Early Learning PA, these campaigns have a shared goal of ensuring sufficient funding to deliver high-quality child care and parenting support for every Pennsylvania family with children from birth to age five.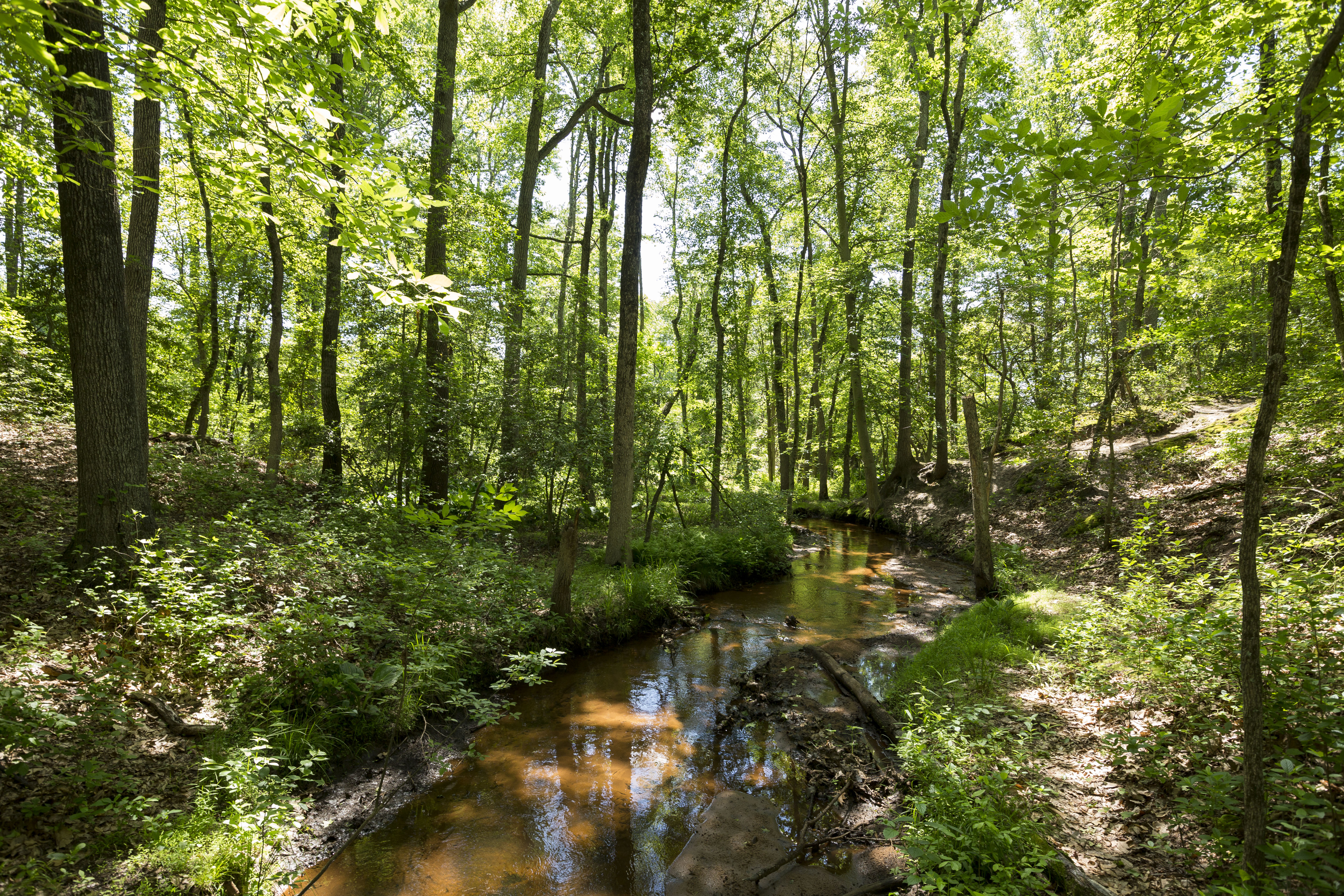 Collaboration to Accelerate Conservation
Creating the right conditions – the policies, practices, and public engagement – that will ensure the Delaware River watershed supports aquatic life and recreation in and on the water requires significant, ongoing coordination of efforts and resources by many NGOs, public agencies and funders.
With this in mind, fostering collaboration through the development of networks is central to our Watershed Protection Program strategies. These networks include the Delaware River Watershed Initiative, which brings together more than 50 land trusts and watershed associations with similar missions; the Alliance for Watershed Education, which comprises 23 independent nature centers; the Circuit Coalition, which involves more than 65 organizations working to advance the development of hundreds of miles of multi-use trails; and the Coalition for the Delaware River Watershed, which has united the advocacy work of over 150 organizations.
Through these networks, we are encouraging coordination within sectors of the conservation movement as dozens of partners doing similar work develop and act on common goals. In 2019, each of these networks was actively engaged in implementing shared action plans.
In 2019, we awarded a group of grants to support organizations to work together, this time across sectors, toward the shared goal of increasing protection levels of the Delaware River watershed's 25,000 miles of rivers and streams under the Clean Water Act. Ensuring that water quality supports designated uses for swimming, fishing, and aquatic life can require increasingly protective water quality standards. These standards are implemented through pollution permits issued under the Clean Water Act to businesses, industries, and public utilities that discharge into waterways. We provided funding for partners working in advocacy, research, conservation, environmental education, and outdoor recreation – many of them members of the networks mentioned above – to work together to broaden local support for "fishable and swimmable" designations that will improve protections on waterways that they have jointly prioritized.
We saw their collaborative work play out in Camden County, New Jersey as a number of grantee partners including Urban Promise, Environment New Jersey, and the Delaware Riverkeeper Network advocated for Category 1 protections – the highest level in New Jersey – on a portion of the Cooper River in Camden and Pennsauken that has experienced a remarkable recovery in recent years to the point where it is now supporting a rare and endangered fresh-water mussel species as well as increasing recreational use. Thanks to strong cross-sector collaboration, the NJ Department of Environmental Protection's proposal to upgrade this section of the river to Category 1 saw widespread public support. In April 2020, more than 600 miles of rivers across the state were officially upgraded to Category 1, including this section of the Cooper River.
All watershed communities are entitled to clean waterways, strong environmental policies, and opportunities to enjoy rivers and streams.
Reflecting Diverse Communities
Nationally, the environmental movement lacks equitable racial and ethnic representation in leadership, staffing, and membership, and these same patterns manifest in the Delaware River watershed. Our field does not adequately reflect the racial composition of the people that make up this watershed, nor does it fully leverage the resources and expertise of a more inclusive constituency. All watershed communities are entitled to clean waterways, strong environmental policies, and opportunities to enjoy rivers and streams; however, the lived experiences of many communities of color still reflect the injustices of structural racism. These issues are essential to our work across the watershed. More diverse representation in environmental organizations' leadership, staff, and membership constitutes a stronger and more equitable environmental movement, enabling broader support for clean water.
To support the leadership of environmental nonprofits, where the diversity gap far exceeds that observed nationally, we awarded funding to the University of Pennsylvania's ImpactED and DiverseForce to expand the DiverseForce On Boards leadership program. This program provides training and matches leaders of color with a wide variety of nonprofit boards across the Greater Philadelphia region. The William Penn Foundation's support focused specifically on supporting individuals and institutions involved in the arts, education, and environment, with additional support tailored to the unique needs of environmental organizations. The 2019 program cohort included 28 mid- to senior-level professionals of color, and we are already seeing successful matches between these professionals and many of our grantees. We were excited to build on this success with the launch of the 2020 program cohort in February.
In other areas of our grantmaking we are prioritizing support for more informed, inclusive, and effective programs of community engagement. We encourage and support environmental organizations to better connect with constituencies that have historically been left out of the environmental movement, especially communities of color. As one example, we are supporting a market research project with the Alliance for Watershed Education to explore how communities around many of the member centers perceive the outdoors, nearby rivers, and the centers themselves. Through research like this, we aim to better understand the unique communities and context where we support work and to enable our grantees to develop more meaningful relationships with their neighbors.
Addressing Climate Change Impacts
Climate change is the most pressing environmental issue of our time. While our Watershed Protection Program is designed to protect and restore water quality in the Delaware Basin, much of the work we fund also combats or mitigates the impact of climate change on our region.
For example, through the Delaware River Watershed Initiative we support the protection of thousands of acres of forest and streamside land, preserving their ability to absorb and store the carbon driving climate change as well as the extreme rainfall that is its consequence. And, we support innovative efforts to promote soil health through projects that increase the ability of agricultural lands to capture carbon in soils, simultaneously reducing stream pollution from runoff. We also support urban projects that address climate impacts, including funding for resilient waterfronts that can withstand flooding, green infrastructure solutions that capture carbon and manage flood risk, and urban tree canopy in Philadelphia which reduces heat stress and promotes carbon storage.
In 2019 the Foundation joined other leaders in signing on to Mayor Kenney's Climate Collaborative of Greater Philadelphia, marking the Foundation's commitment to contribute a minimum of $40 million over the next four years to fund this important work, through our existing programs.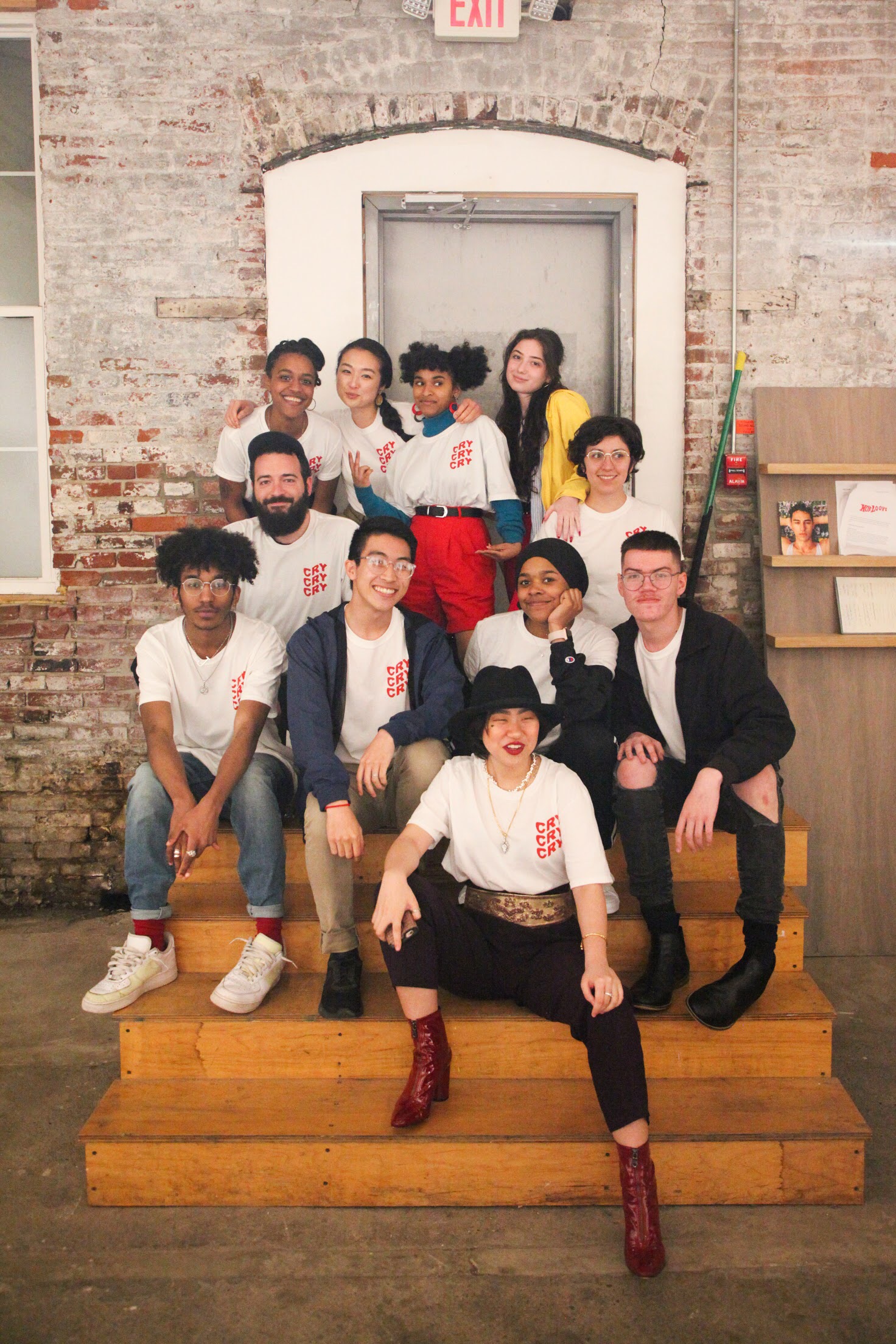 March | Creative Communities
The Velocity Fund Kicks Off Second Year of Grants to Philadelphia Artists 
To support independent visual artists, The Andy Warhol Foundation's Velocity Fund opened applications for its second year of project re-grants for Philadelphia-based artists, administered by Temple Contemporary at the Tyler School of Art and Architecture. The Fund awarded 14 projects with up to $5,000 re-grants from a pool of more than 120 applicants. Inspired by the program and looking to build on its momentum, the William Penn Foundation introduced the inaugural Added Velocity Fund, selecting five of the Velocity Fund grant recipients and awarding each with an additional $15,000 grant to amplify the successes of their projects. Pictured: Added Velocity Fund grant recipient Creative Resilient Youth.
Pictured: 2019 youth artists: Avani Alvarez, Natalie Ionescu, Jay Santiago, Andre Pak, Payton Fulton, Joey Novales, and Christine Lao. 2019 adult facilitators: Bennett Kuhn, Michelle Delgado, and Felicia Blow. Photo courtesy of Temple Contemporary.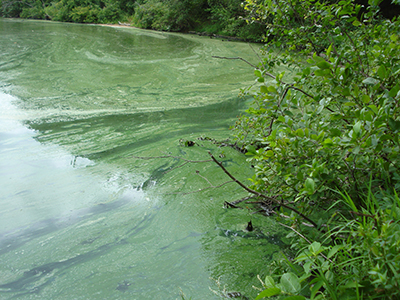 March | Watershed Protection
New Jersey's Clean Stormwater and Flood Reduction Act
Amid an uptick of harmful algal blooms nationwide resulting from stormwater pollution that rendered rivers and lakes toxic and unfit for human contact, environmental advocacy and outreach efforts led New Jersey Governor Phil Murphy to sign into law the Clean Stormwater and Flood Reduction Act. The Act entitles local government entities to create municipal stormwater utilities and establish fees which would go toward stormwater mitigation.
Photo Credit: NJ Department of Environmental Protection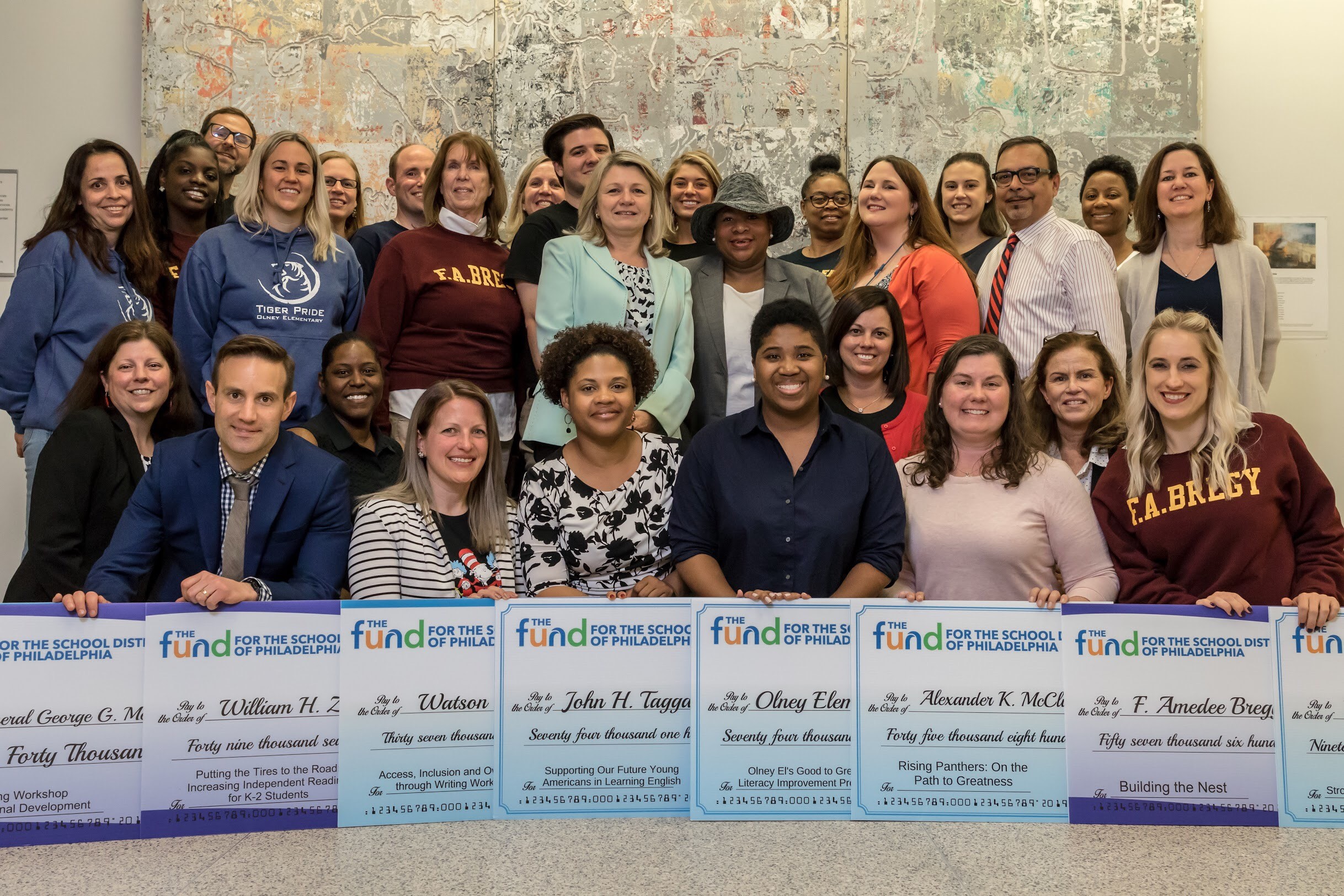 April | Great Learning
'Good to Great' Grants Awarded to 10 Philly Schools 
The Fund for the School District of Philadelphia awarded grants ranging in size from $20,000 to nearly $75,000 to 10 elementary schools to enhance literacy instruction for students in kindergarten through third grades. Supported by William Penn Foundation, the Fund's "Good to Great" grant program enhances the District's robust plan to improve early literacy instruction by supporting the specific needs of individual schools and student populations.
Photo Credit: Larry Dixon Photography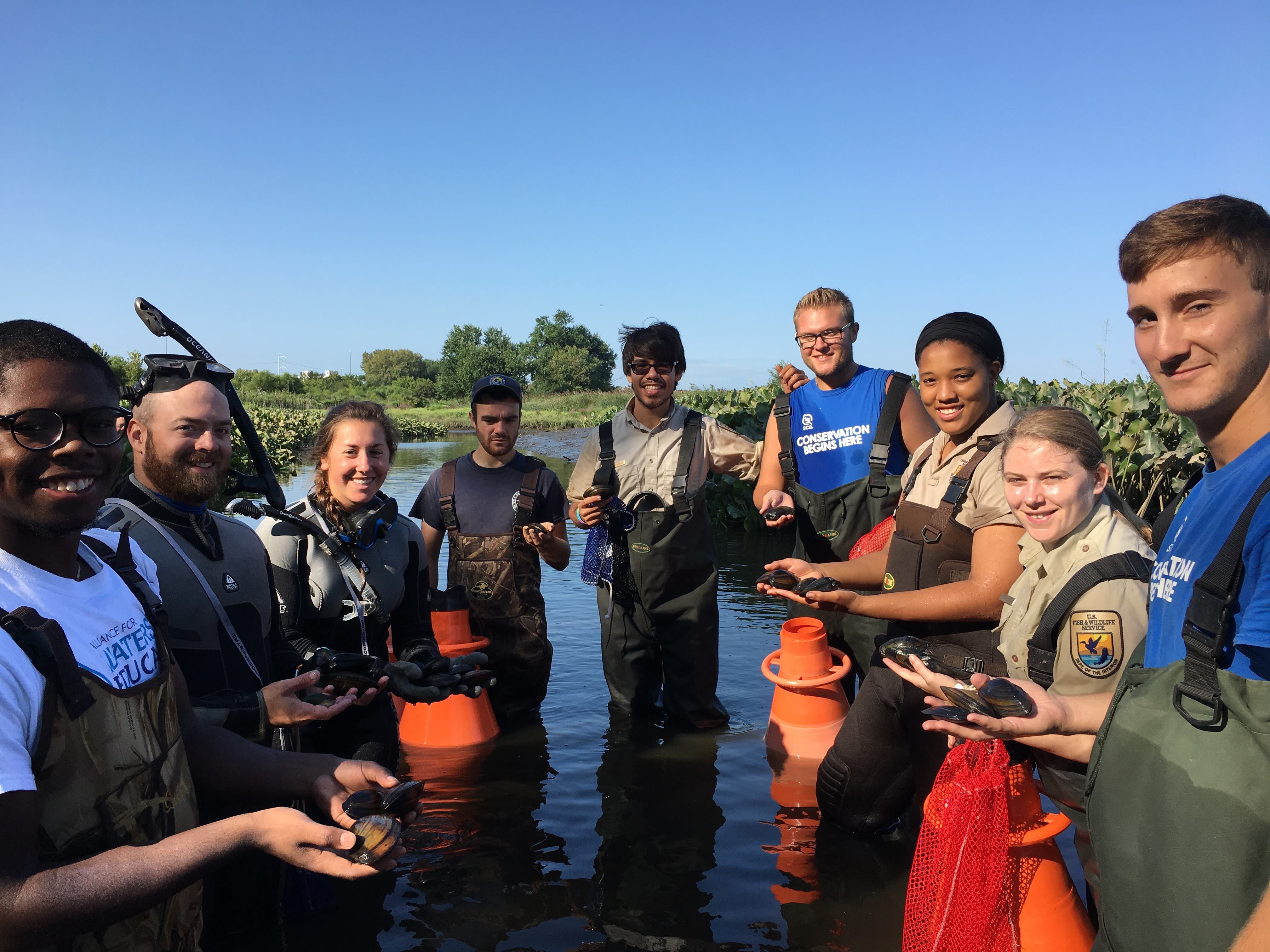 April | Watershed Protection
WPF Awards Additional $6 Million to Alliance for Watershed Education 
The Foundation awarded a $6.1 million, three-year grant to the Alliance for Watershed Education of the Delaware River, a network of 23 environmental centers, to support their ongoing commitment to building greater awareness and appreciation of our region's primary source of clean water. Each center in the Alliance provides watershed education programs on or near local waterways that aim to cultivate an environmental awareness and ethic among visitors. By collaborating, the centers benefit from shared resources and deepened partnerships with each other and nearby communities.
Photo Credit: Alliance for Watershed Education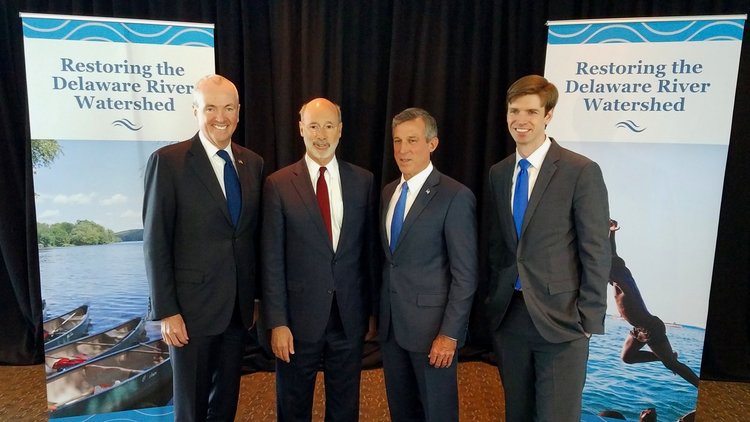 May | Watershed Protection
Delaware River Basin State Governors Commit to Protecting the Watershed
In an unprecedented gathering organized by the National Wildlife Federation with the Coalition for the Delaware River Watershed, the governors of Delaware, New Jersey, and Pennsylvania came together to announce a shared commitment to protect the Delaware River Watershed. The governors signed a proclamation agreeing to work together to make the Delaware River Basin the national model for sustainable economic development, drinkable clean water, healthy fish and wildlife populations, outdoor recreation and nature-based climate resilience.
Photo Credit: Coalition for the Delaware River Watershed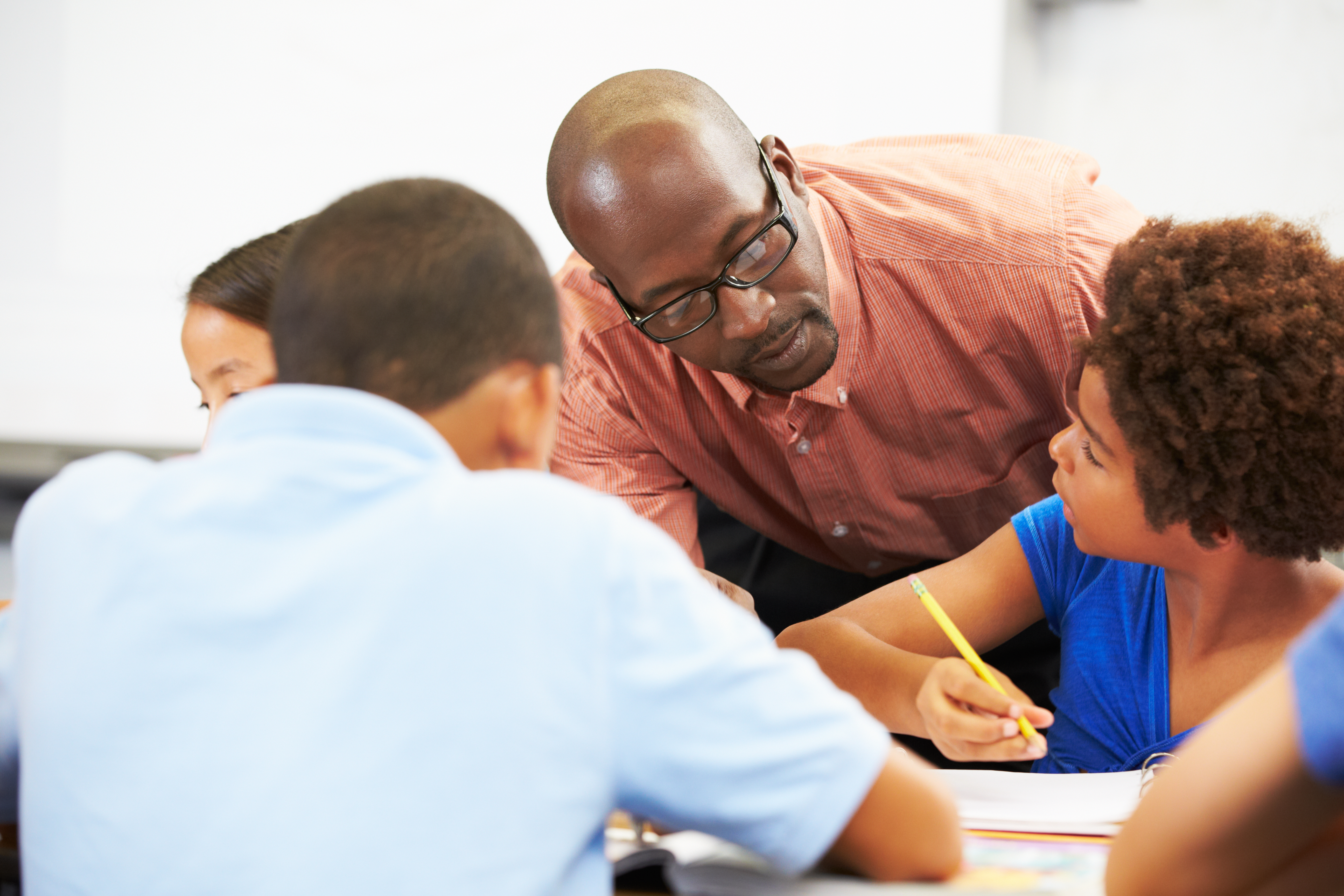 July | Great Learning
First Cohort of Teaching Fellows Selected
The Woodrow Wilson National Fellowship Foundation announced the inaugural class of Pennsylvania Teaching Fellows who began teacher preparation programs at the University of Pennsylvania Graduate School of Education and Duquesne University. A new cohort will begin at West Chester University this fall. The highly competitive program, supported in Pennsylvania by William Penn Foundation and several others, recruits recent graduates and career changers to complete a cutting-edge master's degree program based on a yearlong classroom teaching experience. Upon completion, fellows commit to teach for three years in an academically struggling school in either Philadelphia or Pittsburgh, while receiving ongoing support and mentoring. The participating universities receive support to improve their teacher preparation programs based on standards set by the Woodrow Wilson Foundation.

August | Great Learning
Partners Release New Resources for Kindergarten Families
There are 14 social and emotional skills on the School District of Philadelphia's kindergarten report card that help children become successful students. These skills – such as playing cooperatively and listening and following directions – are teachable and predict early literacy performance, and every child can learn them with the help of teachers and families. With partners at the School District and the Read By 4th campaign, the Penn Child Research Center (PCRC) at the University of Pennsylvania Graduate School of Education developed new resources to help families recognize ways to help children build these skills at home. See ConqueringKindergarten.org.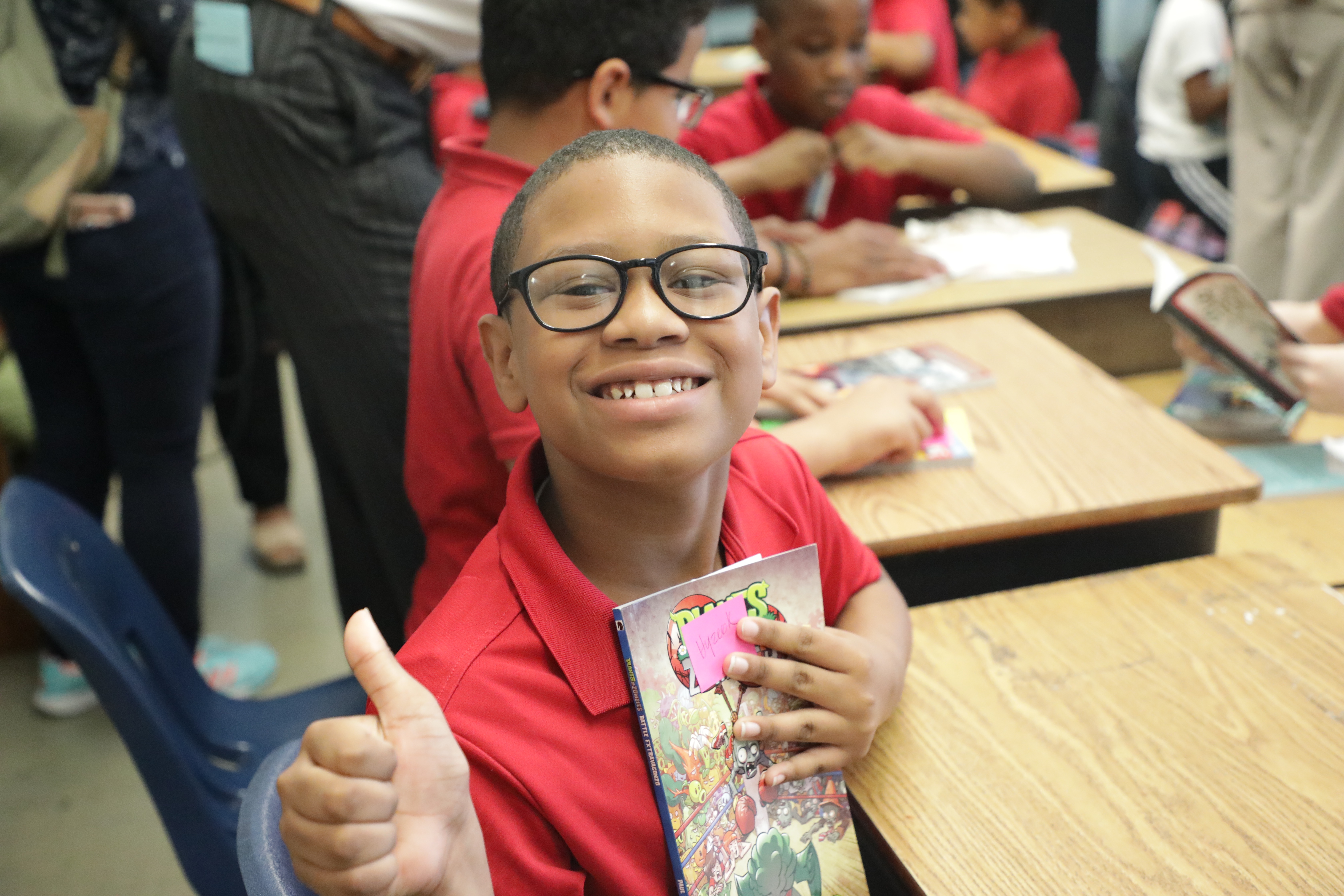 September | Great Learning
Book Trust Grows Partnership with School District
The School District of Philadelphia began a four-year expansion of the Book Trust program to all 150 elementary schools, after completing a successful pilot project supported by William Penn Foundation. Book Trust engages students to choose, read, and own one to three books every month of the school year, helping them build home libraries and cultivating literacy-rich communities. William Penn Foundation supported the expansion, which will bring the program to an estimated 40,000 kindergarten to third-grade students every year, once implemented district-wide by 2023.
Photo Credit: Saquoia Freeman, School District of Philadelphia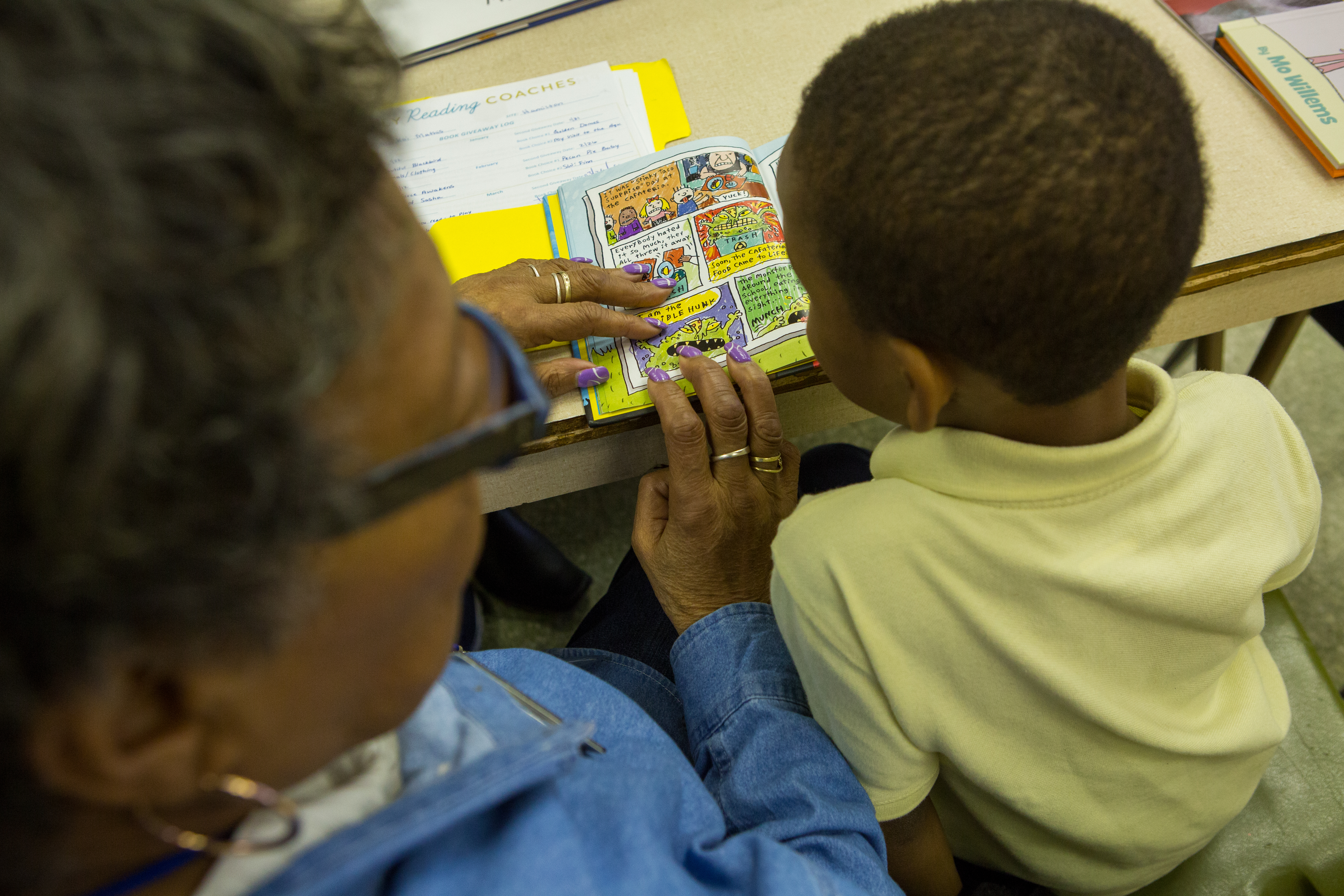 September | Great Learning
Philly Reading Coaches Program Expands
The Philly Reading Coaches program expanded to 28 sites and more than 500 coaches in the 2019-20 school year. Students meet one-on-one with volunteer coaches twice a week after school to read together for fun and enjoyment. Students choose the books they read and are encouraged, but not required, to take the lead on reading aloud. In preliminary evaluation results as measured by the Me and My Reading Profile, students showed an increase in their motivation to read over time.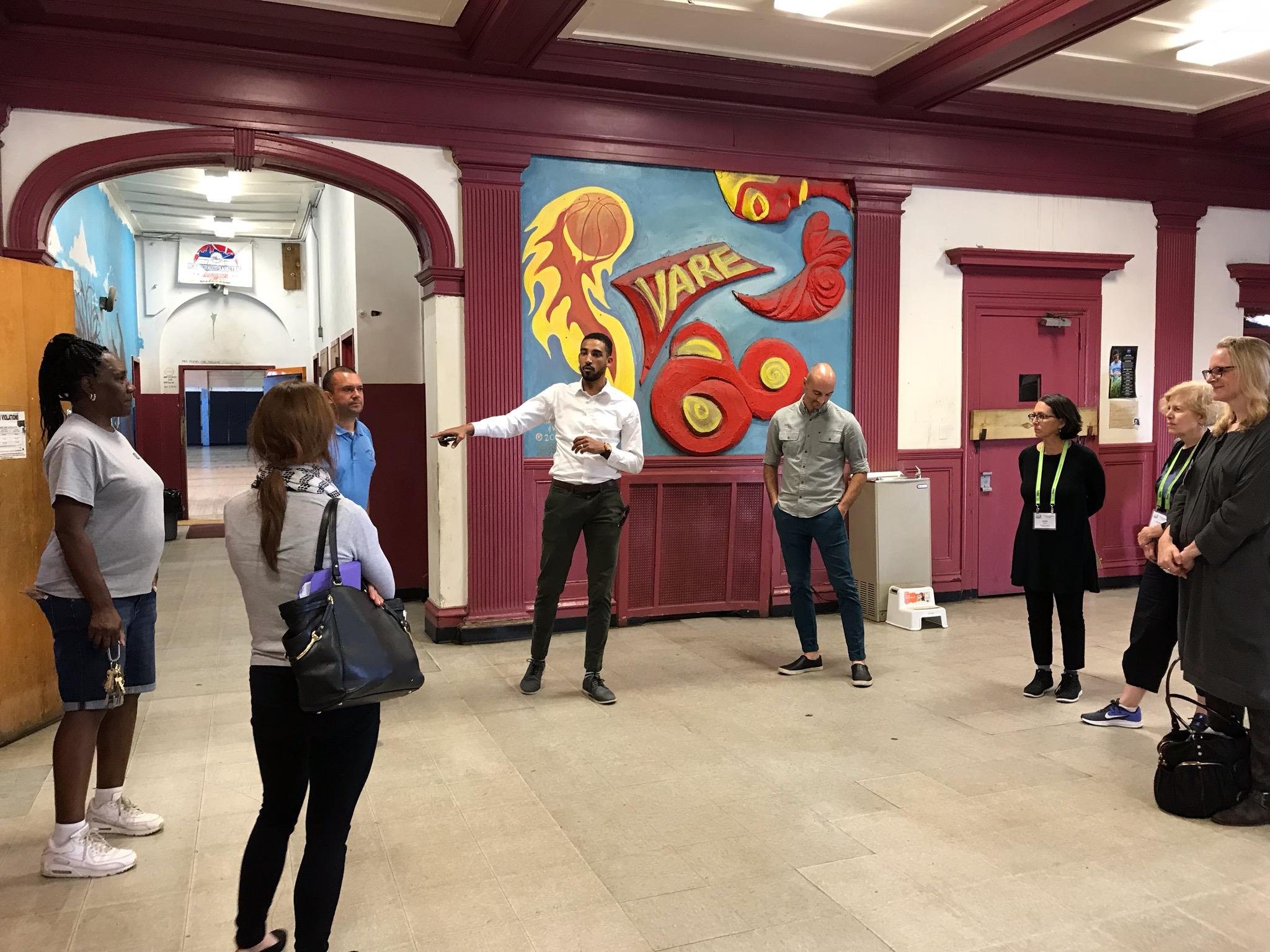 September | Creative Communities
Funders Join Learning Tour of Philadelphia's Urban Parks
More than a dozen grantmakers visited Philadelphia for a preview of a WPF-funded national study conducted by Temple University which synthesizes research on the evidence base for the benefits of parks and public spaces. After diving into the synthesis findings, funders explored public spaces and projects in Philadelphia, such as Vare Recreation Center, that are aiming to realize these benefits equitably as part of the city's Rebuild initiative.
Photo Credit: City Parks Alliance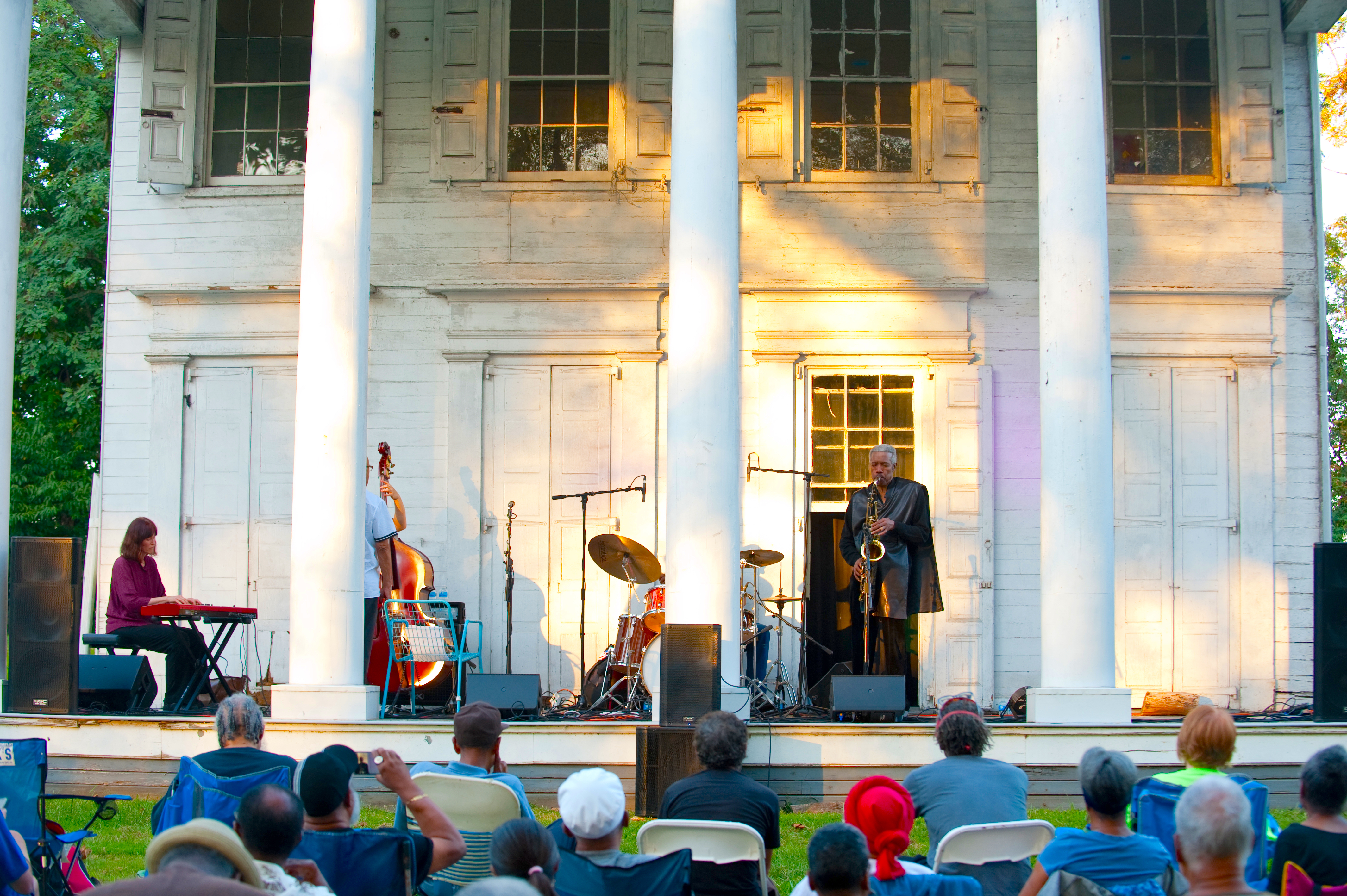 September | Creative Communities
Philadelphia Jazz Project's Celebrate Coltrane Festival Returned to Fairmount Park
On September 21, a Foundation grant to Philadelphia Jazz Project brought together Strawberry Mansion and Brewerytown community members as well as music lovers from across the region for a one-day celebration of the music of legendary John Coltrane. The ode to one of America's greatest artists in his once-hometown, and in his old neighborhood, included 10 hours of free music, a film screening, and other activities celebrating the late artist.
Photo Credit: Ronald Nichols
October | Creative Communities
Rebuild Initiative Shares Update Three Years Post Launch
The City of Philadelphia's Rebuild initiative announced that 60 public space projects are underway in neighborhoods across the city, representing $124 million in committed or expended funds. These include nine major transformation projects to public spaces in need, representing over $70 million in capital investment. Workforce development and community involvement continue to be central to the Initiative. The design process for each project includes engagement with community members to collect their input about what types of improvements they would most like to see. Additionally, these projects have created opportunity for 16 individuals, all people of color, to enroll in a Rebuild workforce program that provides a path into Philadelphia's skilled trade unions. As of October 2019, half of those involved have been hired as union apprentices. The William Penn Foundation committed $100 million in support, the largest single grant in Foundation history, to Rebuild in 2016.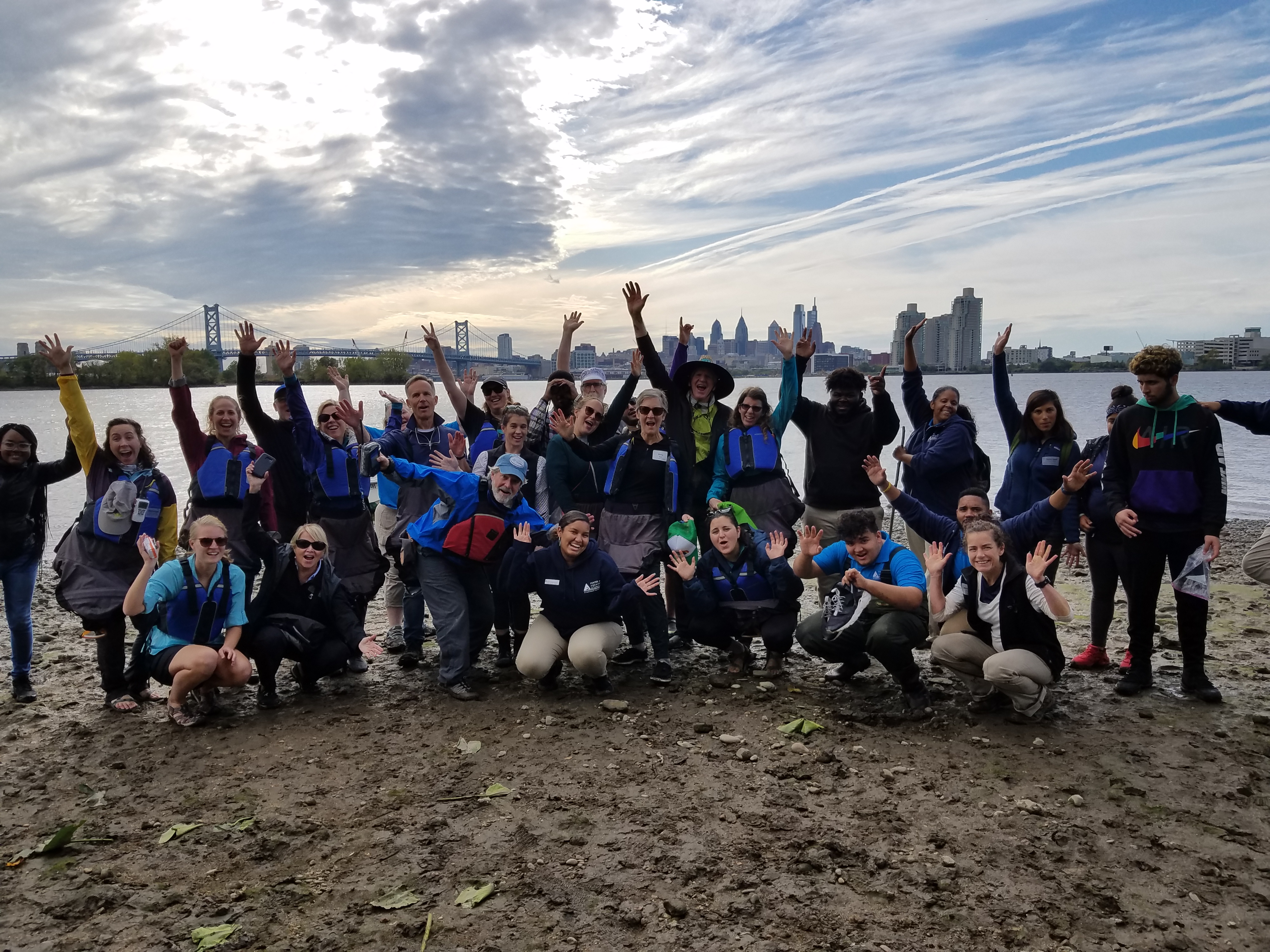 October | Watershed Protection
Blue Sky Funders Forum Convening Comes to Philadelphia
The Blue Sky Funders Forum Convening and 5th Anniversary Celebration attracted funders from across the country to Philadelphia for learning and sharing, including a spotlight on our local ecology and environmental education. The two-day gathering put the region on a national stage for its strong river recreation and outdoor education programs. Activity-based site visits elevated local rivers, including their recovery from prior pollution and their current renaissance.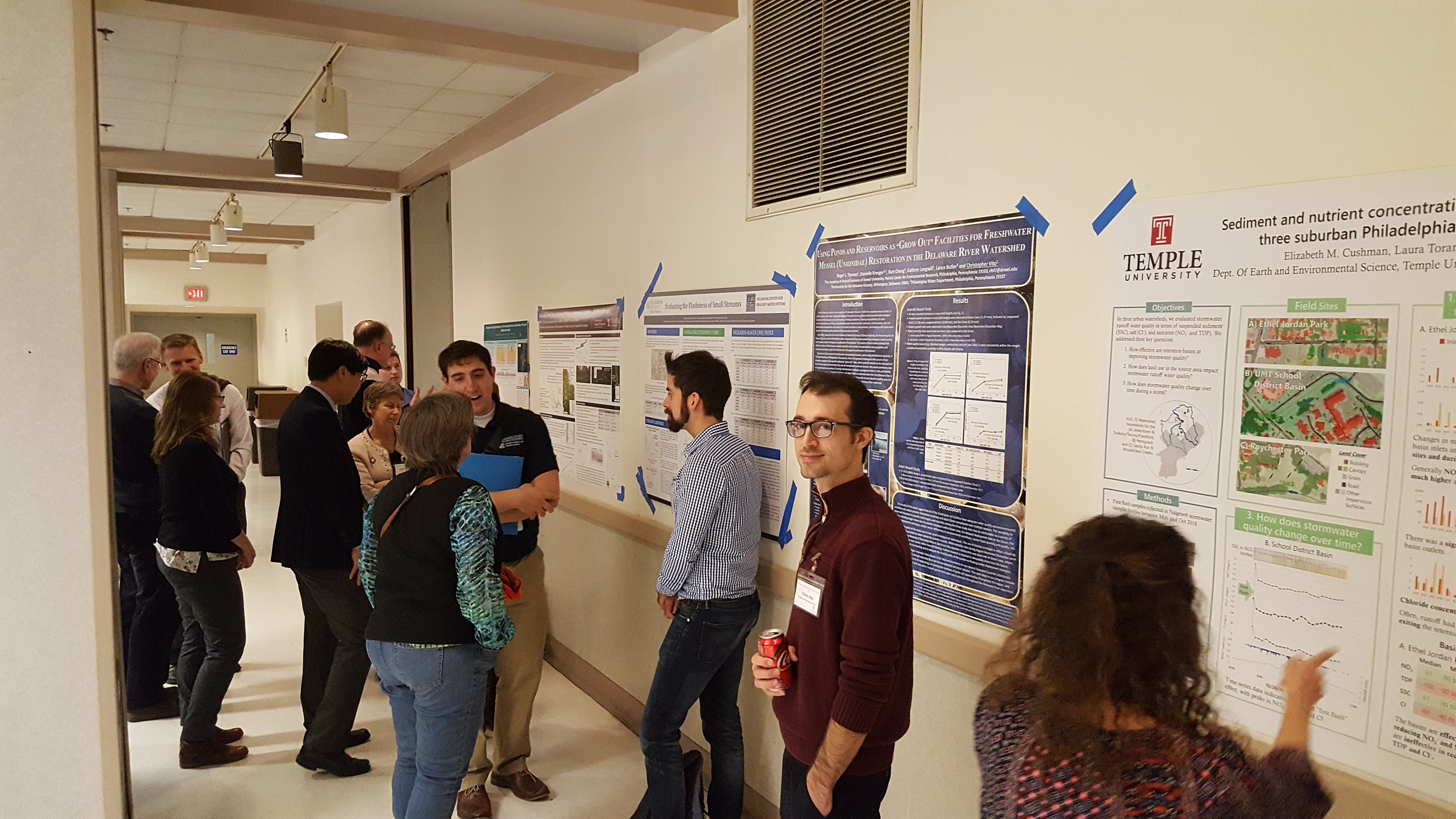 November | Watershed Protection
Academy of Natural Sciences Research Conference
With Foundation support, The Academy of Natural Sciences of Drexel University organized the Delaware Watershed Research Conference for researchers and conservation practitioners. The annual conference was designed to encourage novel research throughout the watershed and to foster collaboration among the growing research community. Experts across a range of disciplines discussed the state of watershed research, particularly within the Delaware River Watershed, and explored topics including environmental monitoring, data-driven ecological modeling, and economic, social, and political effects on the watershed.
Photo Credit: Academy of Natural Sciences
December | Watershed Protection
75 Miles of Streams in PA Receive New Protections
The Pennsylvania Fish and Boat Commission reported that its Unassessed Waters Initiative added 271 waters and 508 miles of streams to the Wild Trout Streams list in 2019. Streams added to the list are considered of extremely high water quality evidenced by the presence of wild trout, and receive important protections from water quality degradation. Approximately 75 miles of streams added to the list are within the Delaware Basin.
Members of the Corporation
Katherine H. Christiano 
Andrew Haas
Christina Haas
David Haas (Chair)
Leonard Haas
Thomas Haas (Vice Chair)
Associate Members: Frederick Haas, Janet Haas M.D.
 
Board of Directors
Sarah Haas Block        
Katherine H. Christiano (Vice Chair)   
Judith Freyer                                                               
Andrew Haas                                                     
Christina Haas (Vice Chair)   
Frederick Haas (Secretary)
Janet Haas M.D. (Chair)                     
Leonard Haas 
Peter Haas
Donald Kimelman
Claire Lomax
Howard L. Meyers
Michael Pearson
Non-Voting Officers: Bryan Ulishney (Treasurer & Assistant Secretary), Shawn McCaney (Executive Director)
Foundation Staff
Executive Director
Programs
Philip Asbury, Program Associate, Creative Communities
Clare Billett, Senior Program Officer, Watershed Protection
Nathan Boon, Senior Program Officer, Watershed Protection
Kellie Brown, Program Officer, Great Learning
Amanda Charles, Senior Program Associate, Great Learning
Ebony English, Program Officer, Great Learning
Cara Ferrentino, Program Officer, Creative Communities
Andrew Johnson, Program Director, Watershed Protection
Chris Kieran, Senior Program Associate, Watershed Protection
Hillary Murray, Senior Program Officer, Creative Communities
Michele Perch, Program Officer, Watershed Protection
Judilee Reed, Program Director, Creative Communities
Jessica Richards, Director of Program Operations & Planning
Caralyn Spector, Program Officer, Creative Communities
Jennifer Stavrakos, Senior Program Officer, Great Learning
Elliot Weinbaum, Program Director, Great Learning
Administration
Audrey Ang, Accounting Manager, Finance and Administration
Jamie Bartolino, Senior Communications Associate, Watershed Protection
Leslie Gaskins, Program Operations Assistant, Administrative Services
Tamika Holman, Senior Grants Management Associate, Grants Management
Paola Meimaris, Administrative Support Specialist, Administrative Services
Rebecca Morley, Director of Communications
Hilary Rhodes, Director of Evaluation and Learning
Kelsey Ruane, Senior Communications Associate, Great Learning
Joanne Sabasino, Senior Staff Accountant
Barbara Scace, Director, Grants Management
Samantha Shain, Database Administrator, Grants Management
Bryan Ulishney, Director, Finance and Administration
Edward Wagner, IT Manager
Shinell Young, Program Operations Assistant, Administrative Services
Investments
Amy Chan, Director, Investment Team
John Cross, Director of Investments, Investment Team
MaDoe Htun, Chief Investment Officer
Jeffrey Jackman, Director, Investment Team
Dane Kline, Senior Analyst, Investment Team
Grace Mathis, Investment Analyst, Investment Team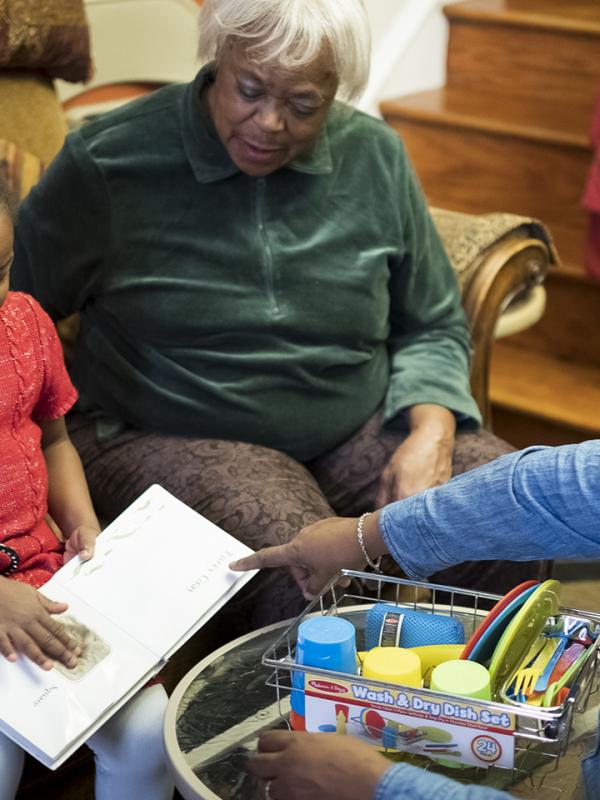 Creative Communities
Ars Nova Workshop, Inc.
Asian Arts Initiative
Astral Artists, Inc.
Avenue North Renaissance
Azuka Theatre Collective
Barnes Foundation
Black Lily Inc.
Bristol Riverside Theater Company, Inc..
Bucks County Historical Society Mercer Museum
Centennial Parkside CDC
Center for Art in Wood, Inc.
Center for Emerging Visual Artists, Ltd.
CultureTrust Greater Philadelphia
Dolce Suono Chamber Music Concert Series, Inc.
Ego PO
Franklin Institute
Fund for Philadelphia, Inc.
Fund for the School District of Philadelphia
German Society of Pennsylvania
Greater Philadelphia Cultural Alliance
Headlong Dance Theater
Inis Nua Theatre Company
Interact, Inc.
Intercultural Journeys
Interfaith Center of Greater Philadelphia
Kimmel Center Inc.
Kulu Mele African American Dance Ensemble Inc.
Local Initiatives Support Corporation - Philadelphia Chapter
Mendelssohn Club of Philadelphia
Natural Lands, Inc.
Network for New Music
Nueva Esperanza
Orchestra 2001, Incorporated
Painted Bride Art Center
People's Light and Theatre Company
Philadelphia Chamber Music Society
Philadelphia Chinatown Development Corporation
Philadelphia Contemporary
Philadelphia Dance Company
Philadelphia Folklore Project
Philadelphia Mural Arts Advocates
Philadelphia Museum of Art
Philadelphia Photo Arts Center
Philadelphia Theatre Company
Piffaro The Renaissance Band
Playpenn, Inc.
Public Interest Law Center
Riverfront North Partnership
Rosenbach Museum and Library
Shakespeare in Clark Park
Spiral Q Puppet Theater
Tempesta di Mare, Inc.
Temple University - College of Liberal Arts
Temple University - Tyler School of Art
Theatre Horizon
University City District/li>
Village of Arts and Humanities, Inc./li>
Vox Populi, Inc.
Women's Community Revitalization Project
Zoological Society of Philadelphia
Great Learning
The Academy of Natural Sciences of Drexel University
Barnes Foundation
Bill, Hillary & Chelsea Clinton Foundation
Carnegie Hall Corporation
Center for Aquatic Sciences, Inc.
Children's Hospital of Philadelphia Foundation
Children's Literacy Initiative
Clay Studio
CORA Services, Inc.
Council for a Strong America
Education Law Center - PA
Fellowship BMEC, Inc.
First Up
Free Library of Philadelphia Foundation
Fund for Philadelphia, Inc.
Fund for the Water Works
Generations United
Health Federation of Philadelphia
Jim Kohlmoos/Edge Consulting
KaBOOM!, Inc.
Lee & Low Books, Inc.
Maternity Care Coalition
MDRC
Mighty Writers
Montgomery Early Learning Centers
National League of Cities Institute, Inc.
National Liberty Museum
New Venture Fund
Oxford Circle Christian Community Development Association, Inc.
Partners for Public Good
Pennsylvania Association for the Education of Young Children
Pennsylvania Child Care Association
Pennsylvania Partnerships for Children
People's Emergency Center
Philadelphia Foundation
Philadelphia Hospital and Health Care - District 1199C
Philadelphia Public School Notebook
Philadelphia Youth Network, Inc.
Public Citizens for Children and Youth
Public Health Management Corporation
Public Interest Law Center
Research for Action, Inc.
School District of Philadelphia
Smith Memorial Playground and Playhouse
Sunrise of Philadelphia
Team Pennsylvania Foundation
Temple University - College of Education
Temple University - Infant and Child Laboratory
Tookany-Tacony-Frankford Watershed Partnership
Trying Together
United Way of Pennsylvania
University of Pittsburgh
Urban Affairs Coalition
Wellesley College
Watershed Protection
Academy of Natural Sciences
American Littoral Society
American Rivers, Inc.
American Sustainable Business Institute, Inc.
Appalachian Mountain Club
Berks Nature
Camden City Garden Club, Inc.
Center for Watershed Protection, Inc.
Citizens for Pennsylvania's Future
Clean Air Council
Clean Water Fund - Pennsylvania
D&R Greenway Land Trust, Inc.
Delaware Greenways
Delaware Nature Society, Inc.
Delaware River Basin Commission
Delaware Riverkeeper Network
Environment America Research and Policy Center
Fair Shake Environmental Legal Services
Friends of the Wissahickon, Inc.
Fund for Philadelphia, Inc.
Greater Philadelphia YMCA
Green Philly Company
Greenprint Partners
Independence Seaport Museum
JASTECH Development Services, Inc.
Lighthawk
Musconetcong Watershed Association
National Association of Conservation Districts, Inc.
National Parks Conservation Association
National Wildlife Federation
Nature Conservancy - Pennsylvania
New Jersey Audubon Society
New Jersey Conservation Foundation
New Jersey League of Conservation Voters Education Fund
New Jersey Tree Foundation, Inc.
North Jersey Resource Conservation and Development Council
OpinionWorks, LLC
PennEnvironment Research and Policy Center
Pennsylvania Environmental Council, Inc.
Pennsylvania Land Trust Association
Philadelphia City Rowing
Pocono Environmental Education Center
Rails to Trails Conservancy
Red Flag Media, LLC
River Network
Riverfront North Partnership
Schuylkill Center for Environmental Education
Schuylkill River Greenway Association
Stroud Water Research Center
The Watershed Institute, Inc.
Theodore Roosevelt Conservation Partnership, Inc.
Tri-State Transportation Campaign
Trout Unlimited, Inc.
United States Forest Service - Philadelphia Field Station
University of Maryland - Environmental Finance Center
University of Pennsylvania -  Ian L. McHarg Center for Urbanism and Ecology
WHYY, Inc.
Wildlands Conservancy, Inc.
Wissahickon Trails (formerly Wissahickon Valley Watershed Association)
WPF Fund
ArtistYear
Asian Americans/Pacific Islanders in Philanthropy
Association of Performing Arts Professionals
Candid
Center for Effective Philanthropy
Central Philadelphia Development Corporation
Chamber of Commerce for Greater Philadelphia
Chestnut Hill Community Center
City Parks Alliance, Inc.
Clay Studio
Communications Network
Council of New Jersey Grantmakers, Inc.
Drexel University
Earth Island Institute, Inc.
Environmental Grantmakers Association
First Step Staffing
Free Library of Philadelphia Foundation
Fund for the Water Works
Funders Network for Smart Growth and Livable Communities, Inc.
Grantmakers for Education
Grantmakers for Effective Organizations
Grantmakers in the Arts
Greater Philadelphia Chamber of Commerce Regional Foundation
GreenLight Fund, Inc.
Lenfest Institute for Journalism
Media Impact Funders
National Committee for Responsive Philanthropy
National Constitution Center
PEAK Grantmaking
Pennsylvania Academy of the Fine Arts
Pennsylvania Voice
Philadelphia Outward Bound Center
Philanthropy Network Greater Philadelphia
PIDC Community Capital
Project Home
Public Citizens for Children and Youth
Schuylkill Center for Environmental Education
SMU DataArts
Sustainable Agriculture and Food Systems, Inc.
Third Sector New England, Inc.
United Way of Greater Philadelphia and Southern New Jersey
Virginia Organizing
Willistown Conservation Trust, Inc.
Click here for the most recent financial snapshot of the Foundation's Grant Payments and Statement of Activities.